Children Learn High Tech Language Arts From A Local Nonprofit
By NTR, April 2, 1998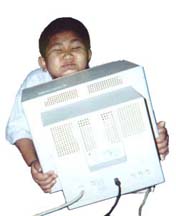 A culturally diverse class of third to fifth-grade students have each made a long journey to America. Now, they have a lot of catching up to do in both language skills and in technology. Primarily from Southeast Asia and Africa, the children are students at the Henry C. Lea elementary School in West Philadelphia. This winter their education took a turn towards high tech.
While these children are still considered to be "at risk" of not fitting into American society, today the youngsters are demonstrating their newly acquired computer hardware and high-tech language skills at Nonprofit Technology Resources, 1600 Arch Street, Floor 2M from 10:30 a.m. till noon.
Using screw drivers and discarded computer hardware, the children, who are nearly as new to the English language as they are to tedhnology, are taking apart and rebuilding computers in a show of talent for school officials and other guests. Among the honored guests are Dr. Leonard B. Finkelstein, former superintendent of the Cheltenham, PA school district, and Ms. Jarnison Preston, technology coordinator for the Mayor's Commission on Literacy.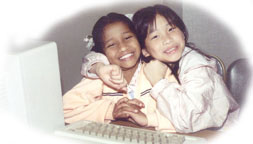 Other guests include John Zelson, Mid-Atlantic technology coordinator for the Corporation for National Service (Americorps*VISTA); Bruce Bogdanoff, Principal of the Lea School; Dr. Janet Bu'der, cluster leader for the West Philadelphia Cluster, Mary Ramirez, director of the Office for Language Equity and Issues; and Mary Yee, YS Implementation Coordinator.
The children learned their technology skills through a unique program hosted by Nonprofit Technology Resources, a Philadelphia-based computer training and support organization serving nonprofit agencies. The class attended 10 sessions at NTR's computer refurbishing facility once or twice a month since November 1997. Stan Pokras, NTR's Director said "We believe in the value of 'hands-on' learning. These kids are picking up and using words like 'disk drive,' 'mother board,' and 'random access memory' because holding the parts in their hands brings the language to life." NTR is itself a charitable organization, supported through the participation of volunteers, gifts of hardware and funds from individuals, companies, governments and charitable foundations. NTR's mission is to help nonprofit groups serve the community through the effective use of technology.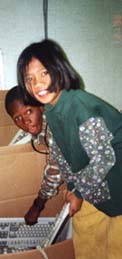 The hardware to be dissected by the children was obtained by NTR as part of a city-wide project known as the Reuse Collaborative which collects, refurbishes and distributes used computers as educational and administrative tools in schools and nonprofit organizations. Most of the computers are expected to survive the ordeal and happily provide word-processing functions or educational games for the youngsters to play as they demonstrate the success of the operation. "In one of our exercises with the children we had them make drawings of a floppy disk controller card. They had fun tracing the outline of the card and filling in the parts. While I'm not sure if they really know what it does, they do know what a disk drive controller card looks like, and the exercise gave them a chance to think about the spatial orientation of the parts," said Pokras.
The children are from the Sheltered ESOL (English for Speakers of Other Languages) class at Lea Elementary School. According to Ms. Nelson, "The class is multi-aged, culturally and linguistically diverse (CLD). Their countries of origin include Bangladesh, Cambodia, China, Eritrea, Guinea, Iraq, Vietnam, and I was born in Ecuador. So, we have a joyous diversity of cultures to learn about!"
According to En-Hui Lois Liao, a graduate student who took part in the computer program for several visits, "To be honest, I questioned about those student's abilities to learn assembling, disassembling, names of computer parts, functions of each parts, and using word processors. It was even a tough job for me," Ms. Liao added. "However, what I saw got rid of my preconception. Those students were fantastic in learning new computer terms and their meanings with this kind of hands-on experiences."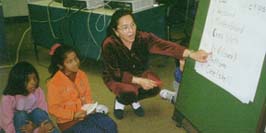 Presiding over the event and the 16 youngsters is their teacher, Ines Acosta Nelson. According to Ms. Nelson, "These students were considered to be impossible to deal with, some have been discipline problems and the school system would just as soon let them fail. When Stan offered to give my class training in computers I jumped at the chance. These children have blossomed because of this experience."
"The children are more interested in school and learning than they were before we came to NTR," said Ms Nelson as she helps the children demonstrate their knowledge of technical terminology and guides them through the hardware disassembly and reassembly process.
The assistant teacher, Victoria Thomas and the staff of Nonprofit Technology Resources will also beon hand. Victor Winder, an Americorps*VISTA Volunteer in charge of NTR's hardware production said, "While the children learned about hardware from us, we learned a lot from them about how children learn. They've made better teachers of all of us."
This project is funded in part by a grant from Philadelphia Newspapers Inc. (The Philadelphia Inquirer and Daily News.) Other sponsors include the Corporation for National Service (Americorps*VISTA) which provides two full-time Americorps*VISTA Volunteers as staff for the Reuse Collaborative. The Mayor's Commission on Literacy and Liberty Net provide technical and leadership resources. The Lutheran Settlement House is a major partner in the Reuse Collaborative. The City of Philadelphia provides free space for NTR's training and reuse programs.